Automatic Hydraulic Flaking Mill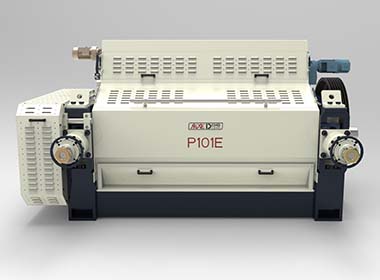 Index
Types

DLZY 800×1000

DLZY 800×1250

DLZY 800×1500

DLZY 800×2150

Output

140-160t/d

160-200t/d

250-300t/d

380-400t/d

Main motor power

37KW+22KW

45KW+30KW

55KW+37KW

75KW+45KW
90KW+55KW
Patented :
l With patented constant pressure hydraulic pump station, features as intermission operation and constant pressure design;the roll works several minutes everyday and energy and energy consumptionis thousandth of the regular flacking mill,thus extend the life of the role and improve system stability. We guarantee its quality for two years.
l Patented contact-proof design,roll contact pressure is only half of the regular flacking mill. Longer work life and roll is removable from single side.
l With hydraulic automatic positioning belt tension system,belt tenses automaticlly ,thus higher efficiency,longer belt life and more stable output.
l The whole roll shaft adopt cold-assembly technique and with small expansion index, roll face do not distort,spall and crack easily. Roll removable from one side. Easy maintenance. Nearly thousands of our products are widely adopted and perform well on their position.